Delia Keddie August 2020
Our featured artist for August was Delia Keddie. Delia exhibited paintings from three of her collections: Dialects, Precious Metals and Abstract Icons.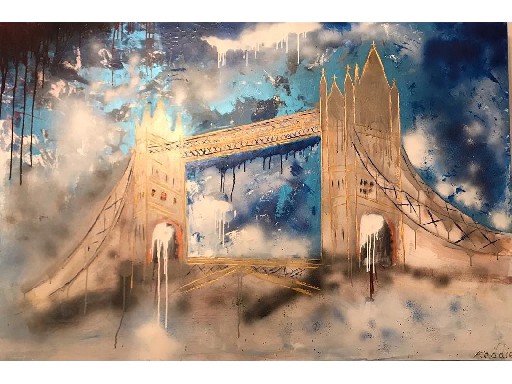 When did you start making art?
I took a year out in 2019 so that I could concentrate purely on art.


What sort of art do you create? Has this changed over time?
I like to create work that has not been seen before and is not in 'fashion'.


What inspires you?
People, music, my children.


What do you do if you're not inspired?
Play music VERY loudly


Where do you practice art?
In my kitchen at home since my garden studio was taken over by the children.


How often do you create?
Last year was most days when not trying to build a social media following (my weakness)


What's the best thing about being an artist?
Being alone!


Where have you exhibited before?
I am resident artist at The Magic Mushroom restaurant in Billericay (a fine place to eat). I have exhibited at Espacio Gallery in Shoreditch, Penny Black Gallery in Brentwood, and took part in The Chelmsford Art Trail 2019.


Do you sell your work? If so, is it difficult to part with it?
I have sold most of my original paintings and love that they are being enjoyed and seen by others. I have some favourites that it was difficult to say bye-bye to, but I have limited edition Giclee prints to keep me company.


What superpower would you have and why?
To stop time every once in a while. Time flies by so fast.
You can see a video of the Delia Keddie August 2020 exhibition with music by Pitchshifter on our Facebook page.
You can see more of our past exhibtions here.